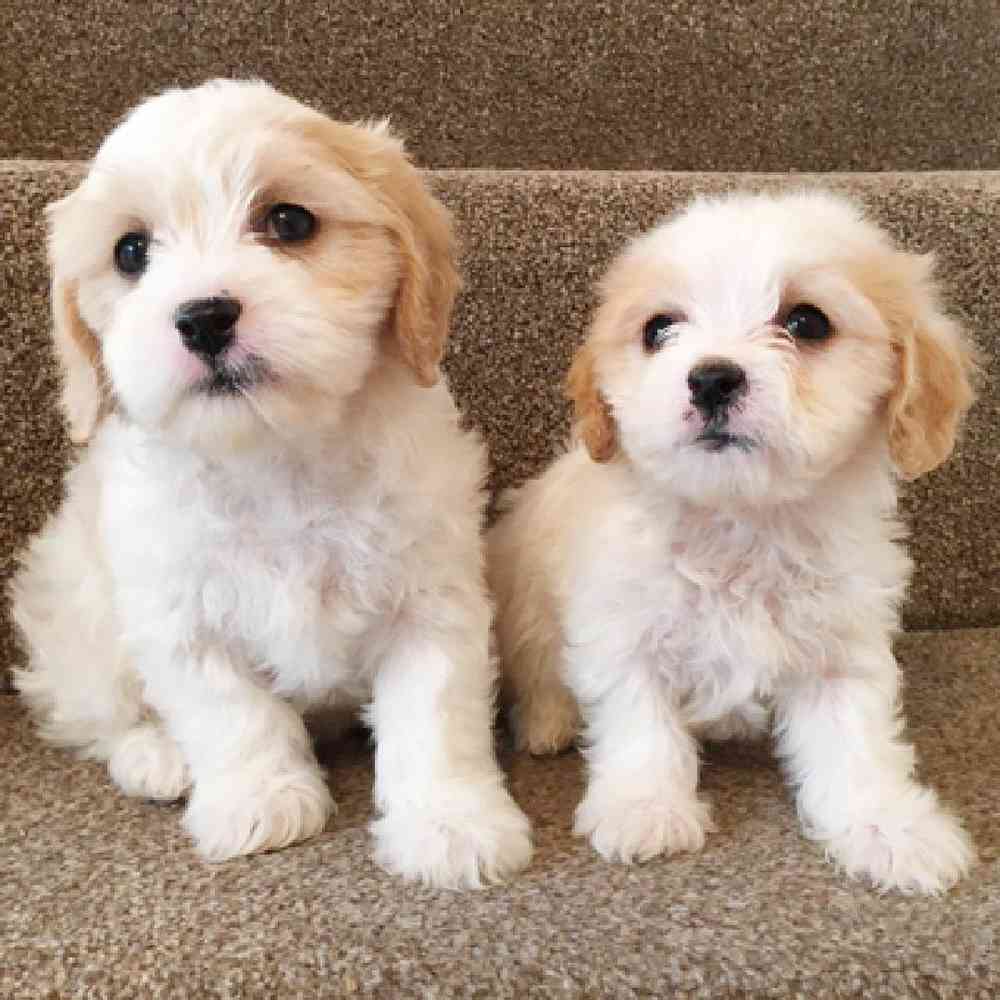 Cavachon
Otherwise known as:
Cavachon Puppies
Cavalier King Charles-Bichon
Bichon Frise-Cavalier King Charles
The Cavachon is a mixed breed dog–a cross between the Cavalier King Charles Spaniel and Bichon Frise dog breeds. Compact, spunky, and full of fun, these pups inherited some of the best traits from both of their parents. These adorable pups make great apartment dogs for active urban dwellers. They do well in houses with or without a yard. Households with or without kids are just fine, too. They can adapt to just about any loving environment! If you are looking for a playful companion pup who will love you unconditionally, the Cavachon could be your next adopted family member.
---
Puppy Knowledge
Description
The Cavachone is a designer breed of Cavalier King Charles Spaniel and Bichon Frise. The appearance can vary greatly between dogs in a litter. Some dogs may have more Bichon Frise appearance compared to other dogs in the litter that may have more of a Cavalier King Charles Spaniel appearance. The Cavachone is an intelligent dog which is easy and willing to learn. It is recommended that you begin socialization and training early in the puppy's life. The puppy will get bored with training. You must vary the length of the training sessions as well as variety in how the training is given.
Exercise/Energy Level
The Cavachone is an energetic breed that loves to play. A 30 minutes daily walk is sufficient to meet the needs of the dog. Daily exercise is important for the health of the dog.
Health Awareness
The Cavachon is a healthy breed due to the fact that it is a crossbred. The Cavachon could have the following conditions: ear infections, heart murmur, eye problems and fea allergies.
Personality
The Cavachon is typically a friendly and playful dog that gets along well with children. The puppy must be introduced to children at a young age. The Cavachon can be loyal and form a strong family bond.
Interesting To Know
*With its Bichon Frise blood, the Cavachon typically sheds less than the average dog but his coat may not be as hypoallergenic as the parent breed's. *Though he is a lively and playful breed, the Cavachon is not overly active – he would be completely content to spend the day lazing on the couch with you by his side. *The Cavachon is not recognized by the American Kennel Club but he is recognized by various hybrid and designer dog registries.
Temperament
Friendly, Loving, Fun Loving