Our Puppy Testimonials in MI
Check the stories of our happy customers and submit your own story!
Your socialization is WONDERFUL!
This is Teddy (actually Ted E Lee) He is a very lovable Schnauzer! We got him from the Novi location. We got him to give our other Schnauzer a playmate thinking it would help. What we realized is that not all Schnauzers are crazy. Teddy loves kids and you were right, the socialization you all do at the store makes a difference! Our first Schnauzer was from a private breeder and must have not been socialized. Thank you so much for the service you provided to us!
Ron & Susanne
LOVE my dog
I brought "Hendrix" home from the Family Puppy of Brighton. The staff was wonderful and helpful with choosing the perfect puppy for me. Hendrix has been nothing but amazing.
Megan
Harley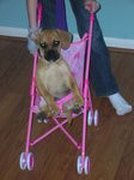 We bought Harley (a puggle) at the Genesee Valley Store in Flint. He is such a loving dog and loves his twin sisters who are 12 and his younger sister who is 10. We also have a black Lab, and Harley gets along great with him. In fact, Harley does not like to be in a kennel by himself while we are away. He would rather sit in the same kennel as his older brother and cuddle. I highly recommend considering a dog or a kitten from this store. If I could afford another one I would go get one today!
Harley's family
BEST girl ever!
We absolutely love our Sasha the Maltese! Everybody that meets her loves her too! We purchased her from the Flint store and everyone there is so helpful and well educated about making sure we got the right puppy. We are very happy with our decision!
Matthew and Vickie
My favorite Buddy!
We purchased Buddy from the Flint Family Puppy! We absolutely love him! He loves messing with mom's Christmas tree and ornaments and his favorite toys consist of my slippers and collectible magazines... but we wouldn't trade him for the world!
George & Carol
Cooper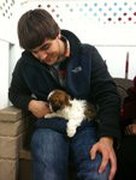 Cooper, our Shih Tzu from The Family Puppy Genesee Valley Center will be 4 months on January 12th 2012, He's certainly quite the character, very well behaved around other dogs and absolutely loves people. I don't know what I would do without the little guy :D
Josh Williamson
Our Bundle of Joy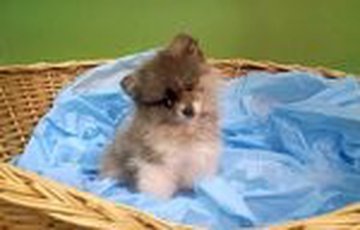 We wandered into The Family Puppy one Saturday after long talks about adopting a little puppy. When we first saw little "Husky" a pomeranian, we thought he was the cutest dog we had ever seen and couldn't leave the store without him. The staff were very helpful and informative and we took advantage of the 24 hour questions service; we're first time puppy owners. But since we've brought him home he has completed our family, it's like we brought home a baby.
Farris & Rema
Sweetest Schnaltie (Schnauzer x Sheltie)!
Molly is adorable, loves to play, and she's a cuddler when we're ready to settle down for the night! All of the Family Puppy Flint's puppies were friendly and nice. They were all good to the kids and liked to be around people!
Jim, Ashley, and Tabitha
Parker the Yorkie-poo!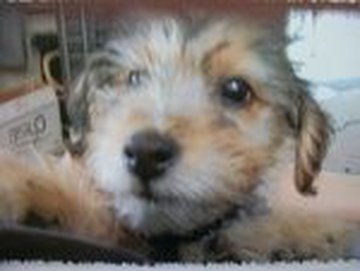 We love Parker so much! He kisses us all and loves to play. Thanks to the Family Puppy Flint!
Madison
Perfect Papillon Poodle mix!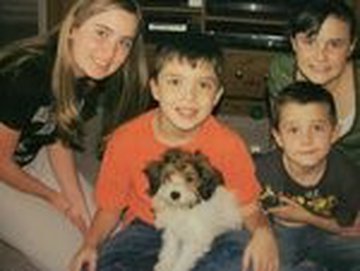 We bought Zoey at the Family Puppy in Flint. She is so much fun! Zoey is so playful, loving, easy to teach, and cuddly. Our whole family loves her so much. We allowed the Family Puppy to help our family find a puppy because they were one of the only places we could find a puppy that our mom was not allergic to. Our family fell right in love with her as soon as we met her
Olivia, Savannah, Donovan, and Brennan
Sister Love
We purchased our first puppy in April from the Novi store so happy with our first puppy we purchased a second puppy in January ....they are fantastic together and they are sisters!!
Meet Penny and Pepper
Apollo and Koda
Best friends - both from the Novi Store. Apollo is almost 2 and Koda is 4 months old.
Louvar family
He is so awesome!
Durin is our Min-Pin we purchased from the Flint store. He is our heart and soul. Best puppy we've ever had!
Mia
Emma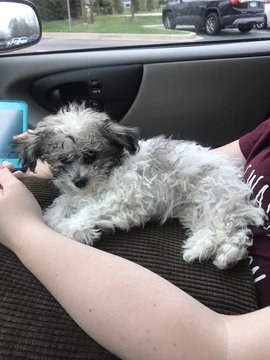 We bought Emma from the Troy location for our neighbor and she is the best thing that's ever happened! Ivy was so helpful and were so grateful she helped us find Emma!
Penny and Emma
MY FLINT EXPERIENCE!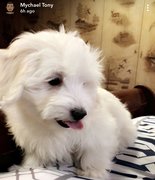 Thanks to Shawndra, she helped me pick the perfect pup at the Family Puppy in Flint, MI. She answered all questions and pointed me to the perfect little coton de Tulear. This is my 2nd dog from the family puppy, both coton de Tulears. Will be back again!
SOUR CREAM
---
All Testimonials
Your socialization is WONDERFUL!

This is Teddy (actually Ted E Lee) He is a very lovable Schnauzer! We got him from the Novi location. We got him to give our other Schnauzer a playmate thinking it would help. What we realized is that not all Schnauzers are crazy. Teddy loves kids and you were right, the socialization you all do at the store makes a difference! Our first Schnauzer was from a private breeder and must have not been socialized. Thank you so much for the service you provided to us!

Ron & Susanne

LOVE my dog

I brought "Hendrix" home from the Family Puppy of Brighton. The staff was wonderful and helpful with choosing the perfect puppy for me. Hendrix has been nothing but amazing.

Megan

Harley

We bought Harley (a puggle) at the Genesee Valley Store in Flint. He is such a loving dog and loves his twin sisters who are 12 and his younger sister who is 10. We also have a black Lab, and Harley gets along great with him. In fact, Harley does not like to be in a kennel by himself while we are away. He would rather sit in the same kennel as his older brother and cuddle. I highly recommend considering a dog or a kitten from this store. If I could afford another one I would go get one today!

Harley's family

BEST girl ever!

We absolutely love our Sasha the Maltese! Everybody that meets her loves her too! We purchased her from the Flint store and everyone there is so helpful and well educated about making sure we got the right puppy. We are very happy with our decision!

Matthew and Vickie

My favorite Buddy!

We purchased Buddy from the Flint Family Puppy! We absolutely love him! He loves messing with mom's Christmas tree and ornaments and his favorite toys consist of my slippers and collectible magazines... but we wouldn't trade him for the world!

George & Carol

Cooper

Cooper, our Shih Tzu from The Family Puppy Genesee Valley Center will be 4 months on January 12th 2012, He's certainly quite the character, very well behaved around other dogs and absolutely loves people. I don't know what I would do without the little guy :D

Josh Williamson

Our Bundle of Joy

We wandered into The Family Puppy one Saturday after long talks about adopting a little puppy. When we first saw little "Husky" a pomeranian, we thought he was the cutest dog we had ever seen and couldn't leave the store without him. The staff were very helpful and informative and we took advantage of the 24 hour questions service; we're first time puppy owners. But since we've brought him home he has completed our family, it's like we brought home a baby.

Farris & Rema

Sweetest Schnaltie (Schnauzer x Sheltie)!

Molly is adorable, loves to play, and she's a cuddler when we're ready to settle down for the night! All of the Family Puppy Flint's puppies were friendly and nice. They were all good to the kids and liked to be around people!

Jim, Ashley, and Tabitha

Parker the Yorkie-poo!

We love Parker so much! He kisses us all and loves to play. Thanks to the Family Puppy Flint!

Madison

Perfect Papillon Poodle mix!

We bought Zoey at the Family Puppy in Flint. She is so much fun! Zoey is so playful, loving, easy to teach, and cuddly. Our whole family loves her so much. We allowed the Family Puppy to help our family find a puppy because they were one of the only places we could find a puppy that our mom was not allergic to. Our family fell right in love with her as soon as we met her

Olivia, Savannah, Donovan, and Brennan

Sister Love

We purchased our first puppy in April from the Novi store so happy with our first puppy we purchased a second puppy in January ....they are fantastic together and they are sisters!!

Meet Penny and Pepper

Apollo and Koda

Best friends - both from the Novi Store. Apollo is almost 2 and Koda is 4 months old.

Louvar family